Tire Services
at Acura of Serramonte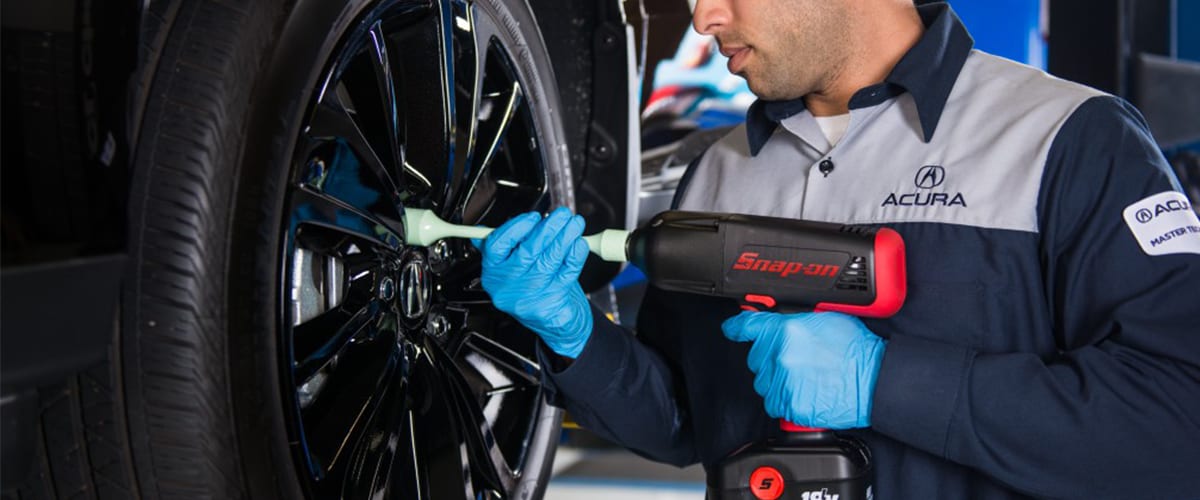 Acura of Serramonte goes over the importance of tire service for your luxury Acura!
When you buy or lease a new Acura, there is a good chance you'll drive off in a vehicle that comes with fantastic advanced safety and driver assistance technologies. However, with all the talk about these great amenities, we want to make sure you aren't forgetting about tire service. Tires aren't as flashy as blind spot monitoring, but properly maintaining your tires helps ensure safer driving, stopping, and even helps you spend less at the gas station.
The Acura of Serramonte Service Center team is here to go over the importance of coming in for tire service.
2 Year Road Hazard Warranty (Included with Any Tire Purchase)
First-year tire covered +fees, 2nd-year tire prorated +fees
Do you need new tires?
There's no hard and fast rule that says when you need to get new tires, as it's dependent on your mileage and driving habits. When you come in for service our team will check the tire tread indicator, but if you don't want to be blindsided you can always do the quarter check in your driveway.
Flip a quarter upside down and place it into the tread
If you can see above Washington's head then you need to order new tires for your Acura
You should also consider getting new tires if you notice any cracks or gouges in the sidewall, go over a nail or other sharp piece of glass or metal, or see blistering.
Tire Rotations
Depending on if your tires are on the front or back, left or right, and what your drivetrain is, your tires are going to wear unevenly. This can be remedied by a tire rotation, and we suggest doing this around 7,500 miles. Tire rotations also help extend the life of your tires!
Tire Pressure
For a DIY service, get in the habit of checking your tire pressure. Yes, your Acura sedan or SUV will have a tire pressure monitoring system, but this will send out an alert when the pressure is very low. By regularly checking pressure every month - or at least when the temperatures start to shift throughout the year - you can ensure the proper inflation. Properly inflated tires increase traction, make going over bumps less harsh, and help your fuel ratings.
If you think your Acura's tires need a bit of TLC, contact our service center this week. They can answer any questions and schedule service with our team of highly-trained technicians that work exclusively with the Acura brand and know how to keep your sedan or SUV in peak condition.
Hours
Monday

7:30 AM - 5:00 PM

Tuesday

7:30 AM - 5:00 PM

Wednesday

7:30 AM - 5:00 PM

Thursday

7:30 AM - 5:00 PM

Friday

7:30 AM - 5:00 PM

Saturday

8:00 AM - 5:00 PM

Sunday

Closed