Brake Services
at Acura of Serramonte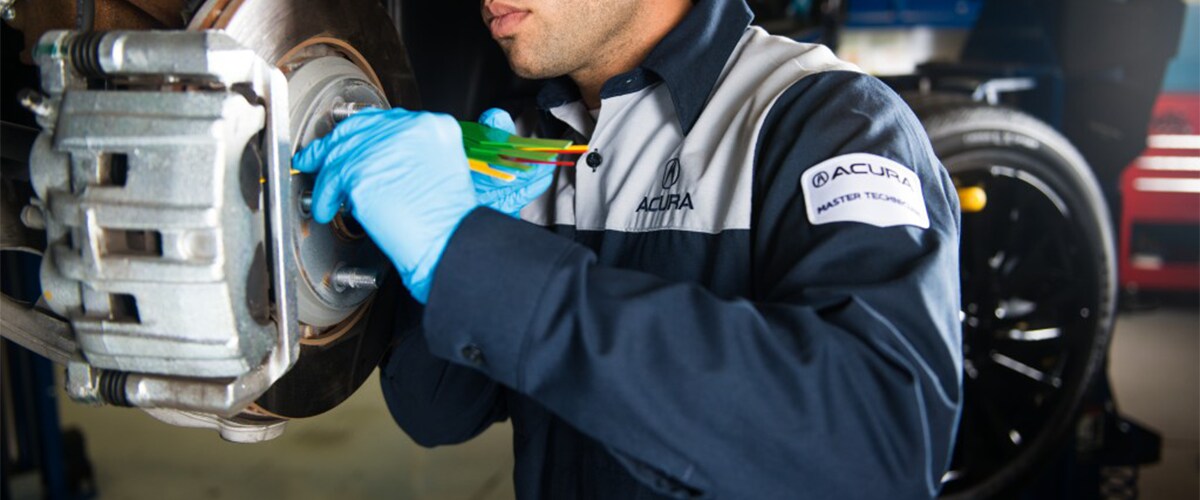 Why Acura of Serramonte is an Easy Choice for Brake Inspections and Service
Observe a problem with your vehicle's brakes? Failure to address these concerns can put both you, your accompanying travelers and other commuters at risk. If you find yourself dealing with common brake issues and want to check this complex system out with the help of experts, then scheduling a service appointment here at Acura of Serramonte is your obvious next course of action!
Understanding the Complex Design of your Car's Brakes
Your car's brake system relies on hundreds of components functioning in seamless fashion to bring your trip to a reliable halt. These different parts - from pads to calipers, rotors, tubes, hoses, valves and more - need to remain in peak condition to perform optimally. Natural wear and unexpected damage can impact the entire system's operation, impacting the safety of your drive and the overall quality of your trip.
Signs it's Time for a Brake Inspection
These warning signs signify that Acura brake inspection service here in Colma, CA is warranted:
Strange odors after applying brakes
Screeching noise when pressing brake pedal
Longer periods to completely stop
Failure or struggle to slow down
Lag in brake responsiveness
How our Technicians Inspect and Repair Brake Systems
Our certified mechanics will examine your car's brake system from the inside out, testing these parts with diagnostics equipment and gathering an overall assessment to proceed with. From here, we move on to replacements and repairs, addressing damage and completing installations of new brakes for systems that are worn beyond correction.
Tend to your Vehicle's Brake Service Needs by Scheduling a Maintenance Appointment
Visit our Acura service center in Colma to address brake inspection and repair requirements with the help of our certified mechanics. We look forward to connecting with you soon and encourage you to follow up with relevant questions.
Hours
Monday

7:30 AM - 5:00 PM

Tuesday

7:30 AM - 5:00 PM

Wednesday

7:30 AM - 5:00 PM

Thursday

7:30 AM - 5:00 PM

Friday

7:30 AM - 5:00 PM

Saturday

8:00 AM - 5:00 PM

Sunday

Closed